For some strange reason, any time I think about this topic I immediately start hearing Kenny Loggins "Danger Zone" playing in my head (along with visions of Tom Cruise riding his motorcycle down a runway).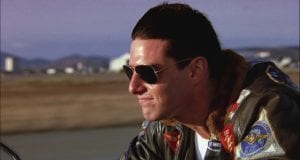 As a parent of a child with cancer, there's never a time things feel "normal" again, but you do find yourself in new routines of normalcy.  You have chemo this week, but next week you don't; or we're off for two weeks, but we know we'll spend a week inpatient for a fever;  your kid is going to feel yuckier today because his/her counts are low and they're anemic, etc.  As you start to see the light at the end of the tunnel for treatment, you wonder how you'll adjust with trying to find another routine.  Maybe they're back at school or you're home with the whole family more often.  You almost have to get to know everyone all over again.
But there's always a sense of "don't get too comfortable" because things can change at any minute.  We found that out very abruptly back in May, and sadly so did another family this past week.  You wade through so much sh** during treatment, you finally get a chance to take a deep breath, and all the sudden you find yourself under water again.  You know it's a possibility to have to go down that road again, but it's always too soon.  I remember the despair I felt after Layla's first relapse.  That first week was nothing but thoughts of all the things that Layla would never do and crying any time I sat and played with her.  I can still throw myself an epic pity party if I let myself, but thankfully, with the help of friends I was able to pluck myself out of that darkness.  You find a new normal again, but you're acutely more aware to stay away from the comfort zone.
School is back in session and everyone is adjusting to new routines.  It won't be long before the week days all look the same:  get up, go to school, homework/soccer/dance, dinner, bed, repeat.  I find comfort in routines.  I like knowing what to expect and how to handle it.  You think I'd be better at dodging curve balls by now, but I don't feel like I am.  Each one still hits me in the gut like a major league fast ball.  The only change is that I don't spend as much time on my back after each one, whining and moaning about how things didn't go my way.  I get up and get ready for the next one.  Things are rarely going to go my way.  I don't have that kind of power.
Do you find yourself in your own comfort zones?  Work, pick the kids up, make dinner, PTA meetings, mow the lawn, church on Sunday?  It's easy.  It's not challenging.  It also doesn't leave much room for God to work.  There's no special requirement or training needed to hear God's voice asking you to move mountains (after all, it's not YOU that's doing the mountain moving).
And I will lead the blind in a way that they do not know, in paths that they have not known I will guide them. I will turn the darkness before them into light, the rough places into level ground. These are the things I do, and I do not forsake them. – Isaiah 42:16
When God asks you to "Go" or "Do" you can guarantee he's already made plans for you.  In our obedience we are all blind men and women.  I've felt more than a little blind for the past 3 months.  At first it was the reduced income that had me worried, but God provided for that up front.  He took away my excuse.  Now that my short term disability has been denied and I'm on an unpaid leave there's not just a reduced income, but NO income.  Plus we'll be paying out of pocket to continue our benefits (benefits we are glad to pay for obviously).  I've spent the past 3 months exercising my trust in Him and there's very little apprehension at this point.  I'd be lying if I said there was none at all, but our family needs to focus on what's really important: being present and being together.  What a hypocrite I would be if I went back to work simply because I was afraid of not having "enough".  What is "enough" anyway?
This idea of having enough is what traps many of us in our comfort zones to begin with.  It takes humility to leave our comfort zones.  Humility to let go of any plans you had in your own mind about what your life should look like, especially if it's not a real "Jesus Take the Wheel" scenario like we've had.  I'll be the first one to tell you it's a whole lot easier to let God take over when the poop has hit the fan than it is when life is uneventful.  But the voice is still there.  I know you hear it.  Are you listening?  It may not be some epic ask, like sell all your belongings and move to a war-torn country to spread the gospel.  Maybe He's simply asking you to use your time for Him more than you do for yourself.  In that time He'll likely reveal to you a bigger ask (isn't that just like God….give him an inch and he takes a mile 😉 )  But instead of being like that neighbor who now has half your tools in his garage (or the relative who'd been sleeping on your couch for a month), you'll experience His bounty revealed ten-fold.
One last thing….be careful about the urge to get out of your comfort zone for selfish reasons.  Social media inundates us with ideas of how life should/could/would look if you made more money, or had a different spouse.  The mid life crisis is a real thing and it's real dangerous.  People set out to "find themselves" and leave a wake of brokenness behind them.  I had what I like to call a quarter-life crisis and know all too well that living life for you alone is a sad existence.  It feels GREAT for awhile, but whatever junk you ran away from in the first place will catch up with you eventually.  It will still be there, standing in front of you like a giant wall.  Climb over it on your own and it will rebuild itself even taller.  The longer you ignore it the harder it is to break through….even if you had a giant army of undead and a zombie dragon (sorry to those of you who don't watch Game of Thrones).
I'm off to pick up miss Layla from school.  This is the week we go every day for injections, so please keep us in your prayers.  Also, her next MRI is the 13th and her birthday is the 21st.  We're praying for clear scans as the best birthday gift ever!